High Efficiency Heat Pump Water Heaters
High Efficiency Heat Pump Water Heaters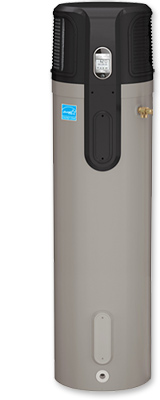 Replacing and Installing
Heat Pump water heaters shouldn't be installed in a space that's too small. A space no smaller than 750 cubic feet (roughly a room at least 8' by 8' by 10') is recommended. Heat pump water heaters produce condensation (just like air conditioners) which must be drained away. The video will help you understand the installation steps, but make sure you also read and follow the printed Installation Instructions.
Once the Heat Pump Water Heater has been installed, check the Power button. If the Power button is not lit, check to make sure the water heater is getting electric power. If the Power button is red, press it to turn the water heater on. The Power button will turn green.
The Heat Pump Water Heater has a small air filter that should be cleaned from time to time. In most cases, the filter does not need to be removed-you may be able to simply vacuum it with a vacuum brush.